Needles and Thread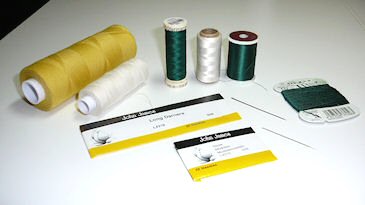 My favorite needles to use for this project:
For the machine quilting and garment construction I used a Universal size 70 needle. To sew the seams in the silk lining, I used a Universal size 60 needle.
To thread trace the seams and baste the lining to the fabric, I used a John James long darner needle size 9.
For other hand work like attaching the pockets, hemming and finishing the lining I used a John James straw needle in size 9.
If I need to put in a row of basting by hand and don't want any holes to show in the silk, I will use a very fine size 11 beading needle and 100 weight silk thread.
For pinning I use .5mm silk pins.
My favorite threads to use for this project:
Tire 100% silk 50 weight machine twist for quilting, machine work and fine hand work when I want the stitches to disappear into the fabric
100% silk buttonhole twist for hand worked buttonholes
Gutermann gimp for reinforcing buttonholes
100% cotton basting thread in white or cream for thread tracing and hand basting
100% cotton basting thread in yellow to mark alterations and changes
100% silk 100 weight thread for basting on silk to prevent the thread from leaving a hole or mark in the silk
Gutermann 100% polyester all purpose thread for sewing on buttons, hemming
See below for a list of suppliers for these hard-to-find items!
Machine Set Up and Feet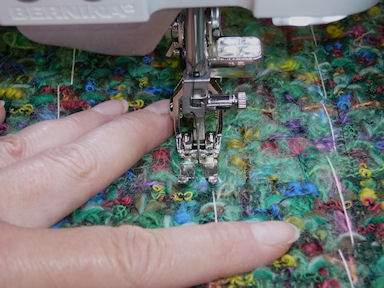 For quilting the lining to the fabric use a 1/4" foot and engage the dual feed mechanism on your machine, if available. Alternately, you could use a walking foot, which will help the layers to feed evenly. Although I made hand worked buttonholes, I used an automatic buttonhole foot to 'Äėbaste' in a buttonhole first. (See technique in Buttonholes section.)
Supplies & Suppliers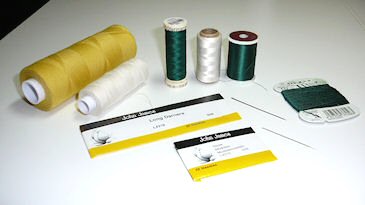 Supplies from left to right: Yellow Basting Cotton, Cream Basting Cotton,
Gutermann 100% Polyester thread, 100 weight Silk thread, 50 weight Silk machine
twist, Silk buttonhole thread, Lond Darner and Straw needles
Copyright (c) 2018 by EmmaOneSock