Ruffles, Gathers and Tucks
Ruffles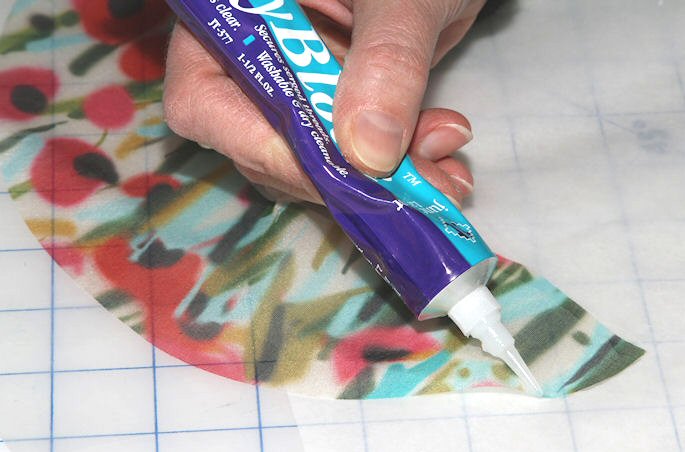 painting edge of ruffle using June Tailor Fray Block
I wanted the ruffles on my sample blouse to be very light and floaty. After experimenting with machine rolled and hand rolled hem techniques, I found that the following technique worked best for the silk print I was working with:
Using a new rotary cutting blade, cut the ruffle along the finished edge. Use June Tailor's Fray Block to 'paint' the edge of the ruffle. Test the product on a sample first to make sure it does not noticeably stain the fabric. The product is very watery and it may bleed into the edge about 1/4", which is a good thing to prevent the fabric from ravelling. Work over a piece of wax paper and then let each ruffle dry before handling. None of the ruffles ravelled during the entire construction process of the blouse. I washing a sample and nothing happened to the finish. Please test this technique first on a sample, as the product may behave differently depending upon the weave, color or print of your sheer fabric.
Gathers
To gather lightweight fabric set the stitch length at 4mm and stitch over a strip of tissue paper. A shorter stitch length pulls up nicer than the maximum stitch length. Remove the paper gently so as not to pull on the stitches. I prefer to do two rows of stitching set 1/4" apart, which pull up more evenly than one row.
Tucks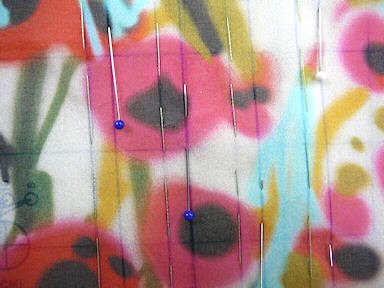 pin the tuck fold lines
The secret to making nice tucks is to take the time to thread trace each of the fold lines. Pin the fabric on top of the tissue paper pattern. My fabric was sheer enough so that I could see the fold lines of the tucks from the pattern piece through the fabric. Thread trace each fold line. Do not stitch the fabric to the pattern. The thread tracing is through the fabric only. Remove the fabric from the pattern and fold along the thread tracing. Press. Pin and stitch along the stitching line. If your fabric moves around too much, hand baste first before stitching.
thread trace fold lines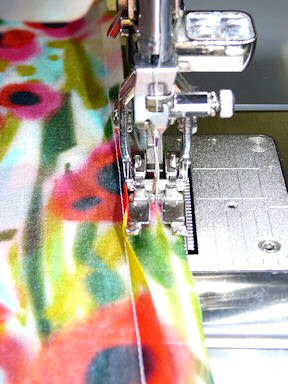 machine stitch tucks
Copyright (c) 2018 by EmmaOneSock