Fabrics and Patterns
Fabrics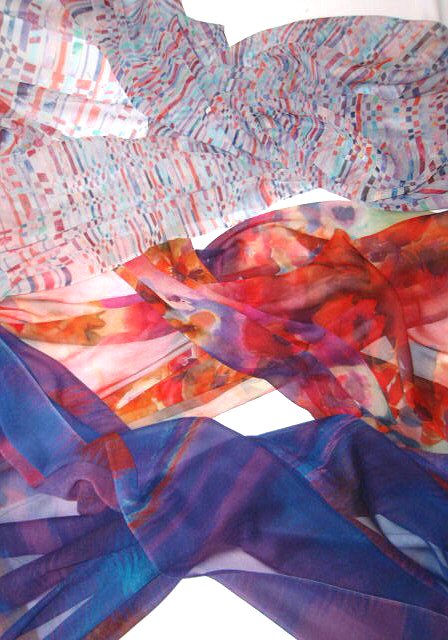 sheer silks
In this article we will focus on soft and drapey sheers such as chiffon and georgette, but many of the techniques outlined here can also be used for crisp sheers such as organza or satin face organza. I chose two favorite silk prints from Emma One Sock for my sample garments, but the same techniques can apply to silk solids as well. Depending upon the style of the garment, a lining, separate garment or undergarment can be added for modesty. Appropriate lining fabrics include silk charmeuse, silk habotai, or silk crepe de chine. The choice depends upon the opacity and drape that you wish to achieve.
Preshrinking the Fabric
Dry cleaning is recommended for these fabrics once your garment is completed. Preshrinking can be done at home though, by pressing with a medium heat iron. (If a vacuum table is available, it is perfect for holding the fabric and preventing it from slipping around.) Work slowly as the fabric will often stick to the iron. Avoid too much moisture as it can bring out the crepe texture on a fine flat fabric such as chiffon.
Choosing a Pattern
Look for patterns with soft details. Feminine dresses or blouses with soft gathers and ruffles are a perfect choice. Elastic waist pants or skirts, and evening jackets or tunics with straight, simple lines will all work well with sheer silks. Instead of traditional collars, try patterns with bias bound necklines, rouleau ties or a ruffle. Simple gathered full sleeves with an elastic casing or small cuff are suitable. No separate lining pattern is required to add a partial lining to a sheer silk garment-- you can use the main body pieces as a guide to cut your lining. Avoid choosing close-fitting or tailored garments, as these styles will strain a lightweight fabric.
Copyright (c) 2018 by EmmaOneSock