Layout, Cutting and Marking
Layout
pin pattern and fabric to tissue paper
Lightweight fabrics tend to fly around on the cutting table. To maintain accuracy, straighten each end of the fabric by pulling a widthwise thread and cut along the pulled thread line. Lay tissue paper over the cutting table. (Examining table white tissue paper like the type used by estheticians works well!). Lay the sheer fabric out on top of the tissue paper. If possible, work on a gridded cutting mat, which will allow you to square the tissue and fabric up to the edge of the mat. Roll the tissue paper out on the table keeping the edge aligned with the edge of the cutting mat.
After straightening the cut edge of the fabric, lay the fabric on top of the tissue as per the pattern layout instructions, either as a single layer or folded in half lengthwise. The straightened end of the fabric should be square with the end of the table and the selvedge should be parallel to the tissue paper. You can then use the edge of the mat to measure the grain line on each pattern piece because both the tissue paper and fabric have been squared up. Pin the pattern to both the fabric and the tissue, which will make it is easier to cut and less likely to move around.
Cutting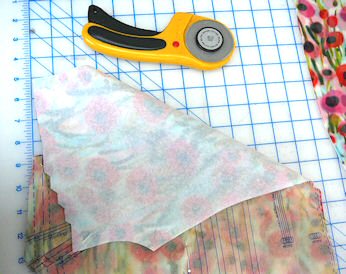 cut out using rotary cutter
A rotary cutter with a brand new blade is recommended for cutting sheer and lightweight fabrics. Also essential is that the fabric remains flat on the table rather than draping over the sides, so that there is less chance for distortion or slippage. Cut through the fabric as well as the tissue paper. Leave the pattern, fabric and tissue paper pinned together until you are ready to use that piece.
Marking
kbsp_p1050099_1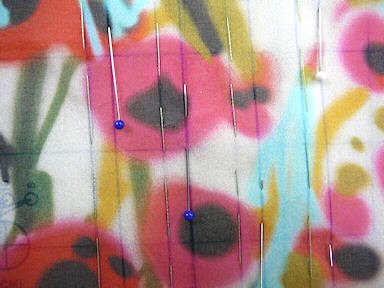 pin the tuck fold lines
kbsp_p1050100_1
thread trace fold lines
Sheer fabrics are too fragile to mark with a tracing wheel and paper. Instead, thread trace any markings or notches with basting cotton. Keep your markings within the seam allowance so that the fabric is not damaged.
To mark the fold lines of tucks, hemlines or buttonholes use 100 weight silk thread, which is fine enough so that you can press over it without damaging or leaving impressions on the silk.
Copyright (c) 2018 by EmmaOneSock