Lightweight jersey fabrics are perfect for soft and easy styles with details like gathering, layering and draping. Lightweight jerseys can be used for tees, cardigans, tunics and dresses, and can be worn all year round. With the addition of spandex some lightweight jerseys are quite stretchy and could also work well in close fitting designs that can be used as layering pieces.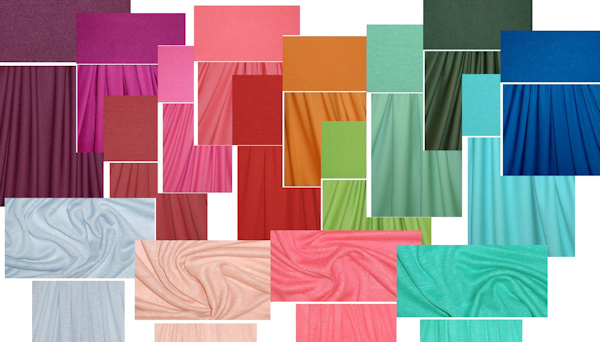 Lightweight knits are most often made from viscose/rayon, cotton, linen, wool, polyester, modal or nylon (or a mix of any two of these fibers) with varying amounts of spandex. In choosing a knit fabric for your project, try to choose one that has a similar weight and stretch to the garment you wish to duplicate. In this tutorial we will focus on 11 oz rayon/lycra jersey, 14 oz rayon/lycra jersey and 100% linen knit, but any one of these designs could work with any lightweight knit, whether solid, striped or printed.
Test the stretch (both horizontal and vertical) of your inspiration garment, try it on to assess the fit and length, and take note of where the neckline and armhole sit. These steps will help you to determine the right type of knit for your project, as well as your yardage requirements.