Kathryn's Sample Garments
Bulky Sweater Knit Jacket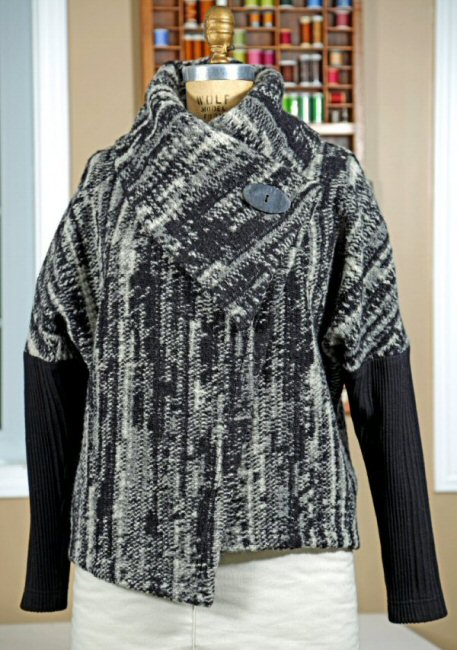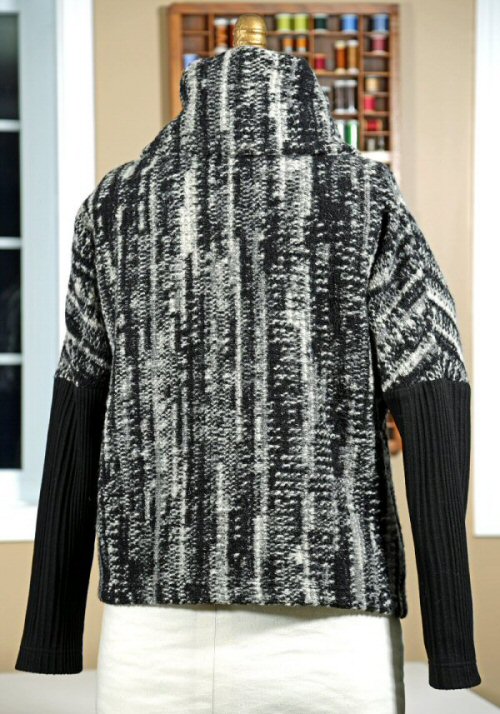 The black/winter white/grey wool blend bulky sweater knit was perfect for an outdoor wrap jacket. The fabric has a berber finish on one side and ribs on the other. I used the fuzzy berber texture for the right side of the garment. For the contrasting sleeves, I used a Ponte knit and created my own ribbed fabric.
Katherine Tilton's Vogue pattern V8778 was used as a base for the design. I used the Right Front pattern piece for both of the fronts and cut a duplicate pattern labelling one as Left and one as Right Front. I shortened the front and back pattern pieces by 2" using the lengthen/shorten line found on the pattern. I wanted to create an asymmetrical closure. To do this, I added 2 1/2" to the vertical front edge of the Right Front at the neck edge coming out to 4" extra at the hemline. At the hemline of the Right Front I added 2 3/8" to the lower hem edge, tapering to join the original hemline at the side seam. To the new Left Front pattern piece I added a new piece along the vertical front edge that went from 3/8" extra at the neck to 4" extra and the hem. This gave me a good overlap for the front closure. I added a 3/4" hem allowance to the front edges and hemline of front and back pattern pieces. Using the original Collar pattern piece I added extra length to fit my new front pieces. For the Right Front Collar edge I added 2 1/2" to the outer edge, which created a point. As this was going to be worn as an outdoor jacket, I wanted the sleeves to fit over another garment. To give a bit of extra room, I added 1/2" extra to each sleeve seam tapering to nothing at the underarm.
All of the pattern pieces were cut in a single layer with the right side of the fabric facing up. I cut 2 collar pattern pieces as I wanted the collar to be nice and thick and stand up on its own.
I used a large snap closure and added a decorative ebony button. The neck edge was finished with binding made from black jersey. The front and hem edges were turned back 3/4" and cover stitched in place. I fused 1" strips of bias knit interfacing to these edges to help stabilise them before cover stitching.
Medium Weight Sweater Knit Top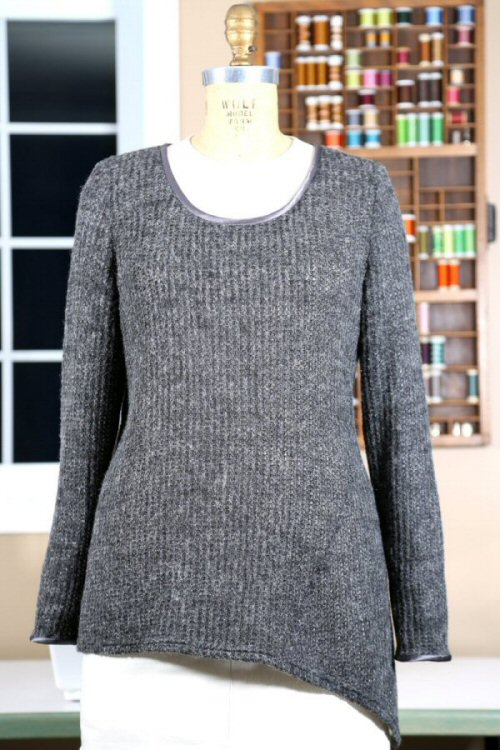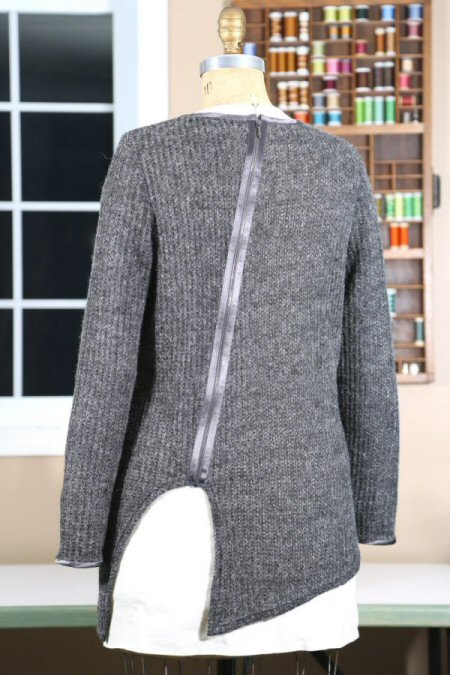 For the pretty sweater knit top I used the Sewing Workshop Olive Top pattern. The grey ribbed sweater knit fabric had some mohair and a glint of shine to it. I trimmed the neck edge with silk charmeuse binding and purchased a beautiful grey satin separating zipper from Botani Trimmings.
Copyright (c) 2018 by EmmaOneSock