As Matte Hybrid has 20% stretch I thought I would try making a neckband as you might for a pullover top. The results were a pretty neckline that easily slipped over my head.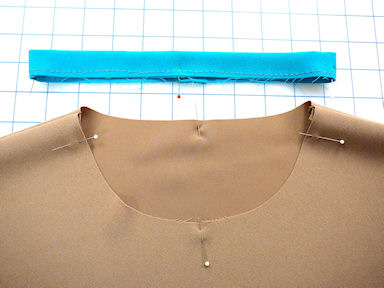 Band and neckline have been
quartered and marked with pins
I found that cutting the band 90% of the finished neck edge was a good ratio. To calculate the length required, stand a tape measure on its edge and walk around the stitching line of the neck opening, subtracting the shoulder seam allowances. Multiply this measurement by 90% for the length of band that is required. Add 1" to the length to allow for a 1/2" seam allowance to join the two ends of the band together. I cut the band 2" wide on the crosswise grain of the fabric.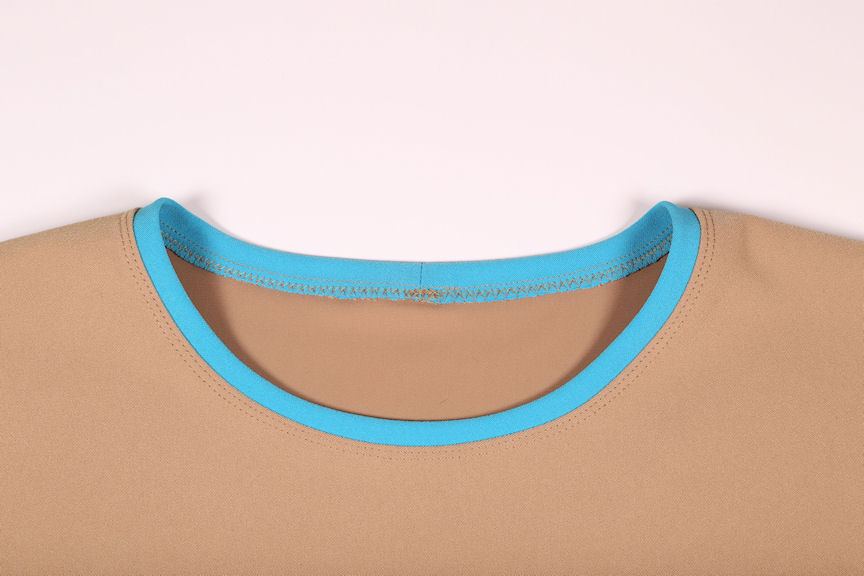 Finished neckline
Join the two ends together with a seam and press the seam open. Fold the band in half and machine baste the edges together. Press the band, setting a crease into the folded edge. Quarter the band by folding it in half and marking with pins and then folding in half again and marking with pins. Quarter the neckline of the garment the same way by marking center back and center front, bring these markings together and then marking the final quarters. The quarters will not (in most cases) sit at the shoulder seams.
Pin the neckband to the garment matching the quarters. Sew the band to the garment stretching it slightly to fit the neck edge. Trim the seam allowance to 3/8". Finish the seam with zig zag or serge. Press the seam allowance towards the body. Use a twin needle with a straight stitch length of 3.5mm to hold the seam allowance flat and finish the neckline.