Interfacings
Many of the designs for lightweight sheer fabrics are very soft and flowy and will not require interfacing. For the sample blouse no interfacing was used. The cuff and button band were simply underlined with silk charmeuse, which gave enough support to make the buttonholes without interfering with the softness of the design. If you require more support in certain areas of your garment, try using an extra layer of the sheer fabric, a layer of silk organza, or a featherweight fusible interfacing. Test these options on a sample first, to determine if the interfacing will show or change the opaqueness of the fabric too much.
Linings
Often sheer garments are meant to drape loosely over the body without a lining. In this case a separate undergarment in the form of a slip or camisole can be worn under the garment. If the garment requires a lining, choose a fabric that has the same softness and drape as the outer fabric.
If the tucks or pleats lay flat, as in my sample blouse, work these details into the sheer fabric only. Before cutting your lining, pin the tucks closed. Once these details are completed, pin the sheer fabric to the lining and tack the edges together, by hand, using a running stitch and fine 100 weight silk thread. The outer fabric and lining can now be treated as one when sewing darts and seams.
tuck lines of pattern pinned closed
to cut out lining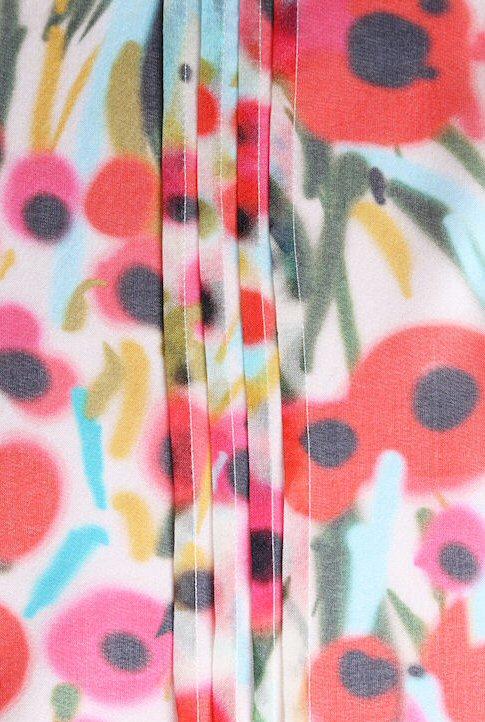 tucks sewn in the chiffon only
But if the tucks or pleats on your pattern open into the garment, as in a skirt that is pleated only at the waist or a blouse that is pleated only in the upper portion, then cut the lining with the same pattern piece as the fashion fabric, baste the edges together and then treat them as one.
Copyright (c) 2018 by EmmaOneSock