Kathryn's Sample Garment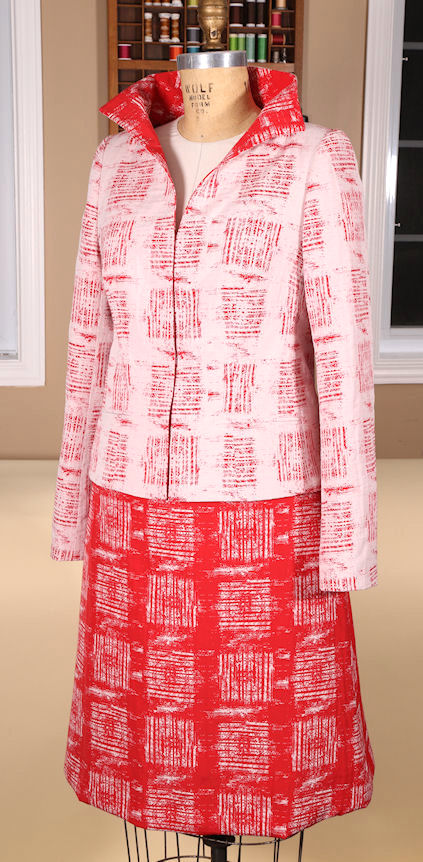 The fabric I chose for this jacket and skirt was a reversible damask from a French mill. I loved the fact that it was reversible and I liked the red and white combination. I wanted a design that could be worn for a more formal occasion but also one that could be worn with a pair of red jeans. Vogue 2607 was the perfect choice. The stand up portrait collar is very flattering and the fabric had enough stiffness to suit this style. With the addition of all bias knit interfacing the lapel rolls beautifully. The hook and eye closure is nice and clean. The fabric had a tight enough weave that the welt pockets were easy to execute without too much ravelling. The skirt is a simple A line with a faced yoke and invisible zipper. The skirt can be worn alone or together with the jacket. The jacket and skirt are lined with silk charmeuse, making them feel luxurious to wear.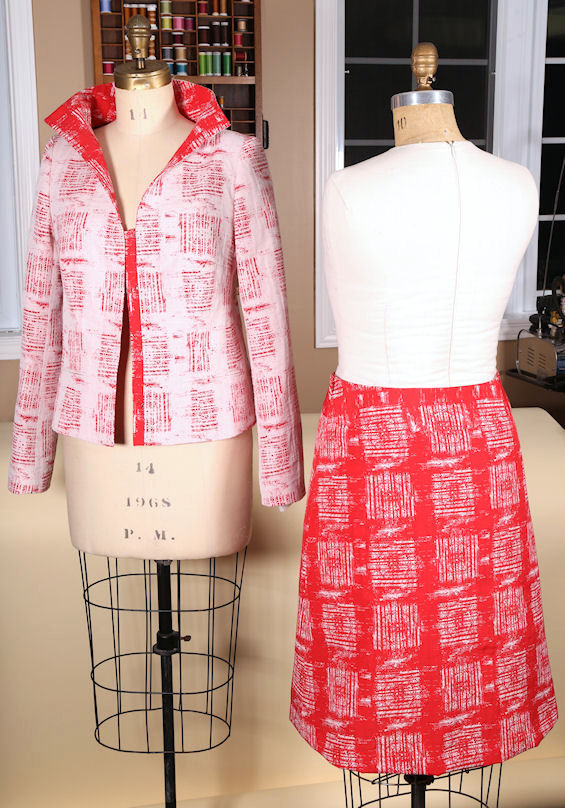 I enjoy matching fabrics. I usually begin with center front and work my way around the body of the garment. I first decide which motif I would like to be down center front. Working my way around the garment, I check to see how things will line up at center back. If it works out well, I will have a full motif at center back. This jacket worked out perfectly! If I need to adjust slightly I will do it at the side panel where it is less noticeable. I completed the jacket and then tried it on over a sample skirt. I drew a line onto the muslin skirt indicating the bottom of the jacket. I could then match the skirt to the jacket perfectly.
Copyright (c) 2018 by EmmaOneSock