Choosing a Pattern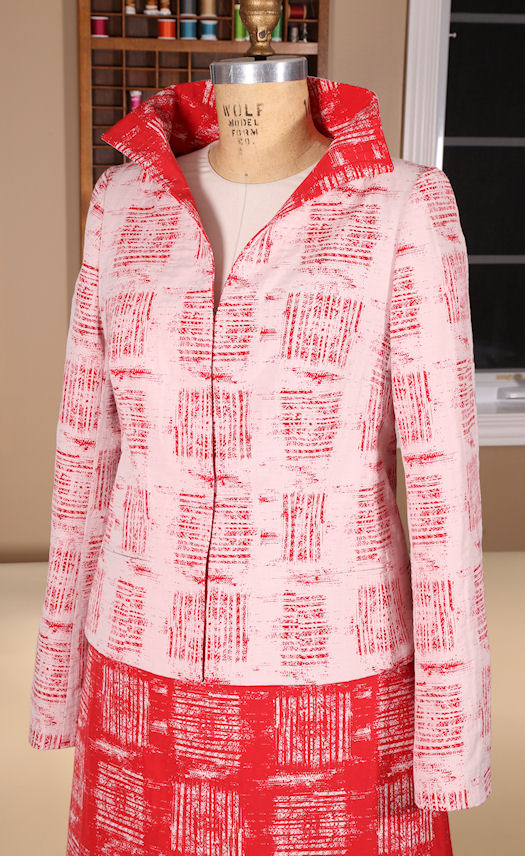 This pattern has clean lines and a simple collar/lapel which lends itself well to working with brocades
Look for simple lines in a pattern that will highlight the beauty of the fabric. Depending upon the weight and weave of the fabric chosen consider a jacket, simple day or evening skirt, sheath dress, evening coat, vest or accessories such as a menswear vest or cummerbund, a tapestry bag or evening bag. Consider combining one of these specialty fabrics with a solid, using the brocade fabric for the collar and lapel. One characteristic of brocade fabric is that it sometimes does not ease well, so keep this in mind when choosing your pattern. It may be necessary to reduce some of the ease in the sleeve cap of a jacket to compensate for this characteristic. To reduce the ease in the sleeve cap, make a small box pleat in the center of the sleeve cap of your pattern piece. Keeping the center circle or notch in the same place, fold a 1/4" tuck on either side of the notch. Use removable tape to secure the pleat until you cut your pattern pieces. This will reduce the sleeve cap ease by 1/2". Smooth the tucks out over the length of the sleeve.
Linings should be cut 1/2" longer than the hemmed length of the body and sleeves for the lining technique used in this article, so check the lining pieces of your pattern before cutting and adjust if necessary.
Preshrinking the Fabric
Some tapestries can be machine washed on a gentle cycle in cool water. Test a sample first if you intend to machine wash the fabric. Machine dry for a few minutes to remove wrinkles and hang to dry. Textured fabrics can be flattened by pressing so dry cleaning is often recommended. To preshrink your brocade, try this technique on a sample first: Pad your ironing board with a thick terry towel. Place the right side of the fabric against the towel. Steam the fabric without touching it. Check for shrinkage as well as damage to the texture. Alternatively ask your dry cleaner to preshrink the fabric for you. Lining fabrics can be steamed and pressed to preshrink.
Copyright (c) 2018 by EmmaOneSock