Getting Started...
Suitable Patterns
As it is a stable knit with some stretch, Ponte can be used for either woven or knit patterns. If using a pattern which calls for a stretch fabric, be sure to do a stretch test first.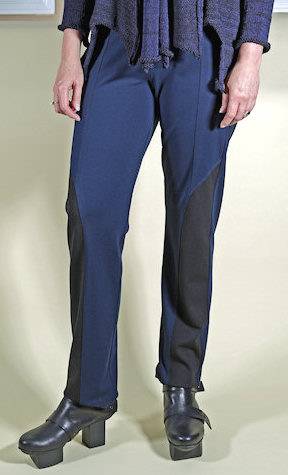 Ponte is great for any style of pants (jeans, skinny pants, leggings, yoga pants, etc.), as well as for dresses, tunics, jackets, skirts or tops. To make the most of your Ponte, look for patterns with interesting seaming detail, color blocking, or patterns that can be modified to combine fabrics. For instance, this season we are seeing Ponte combined with leather, which not only looks great, but also helps reduce the cost of a leather garment! Closure details can include buttonholes or zippers. Elastic waisted garments are suitable and provide easy and comfortable style.
Preshrinking and Care
Ponte generally washes and wears very well. Look to the fabric content to determine care. Most rayon blend Ponte fabrics can be machine washed. To test a fabric for washability, cut a 4" square and toss it in with a load of laundry. Evaluate the swatch to see if it has shrunk, stretched, faded or changed hand. If your garment will be color blocked, sew two swatches together before laundering to test for bleeding.
If the Ponte fabric contains wool, test first to see if it is washable by machine or hand. Consider dry cleaning wool blend Ponte fabrics as well as high contrast color blocked garments to avoid bleeding.
As Ponte contains spandex (also sometimes called Lycra[insert trademark symbol], elastic, elastane, etc.), care must be taken with the dryer. Heat deteriorates spandex, so garments containing spandex should only be put in the dryer on a low heat setting for 2-3 minutes to remove wrinkles; then hang your garment to finish drying.
Layout and Cutting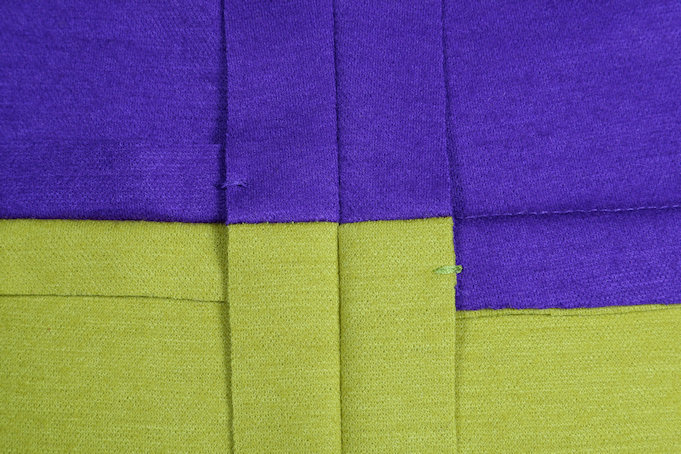 rotary cut seam
allowances
A rotary cutter and weights are the preferred method when cutting Ponte fabric. By using a rotary cutter, one can obtain nice, cleanly cut edges that can be left as unfinished seam allowances in the garment since the fabric does not ravel.
Scissors and pins are also suitable for cutting Ponte fabric. Use long fine 0.5mm x 48mm quilting pins, which will not leave marks in the fabric.
Interfacing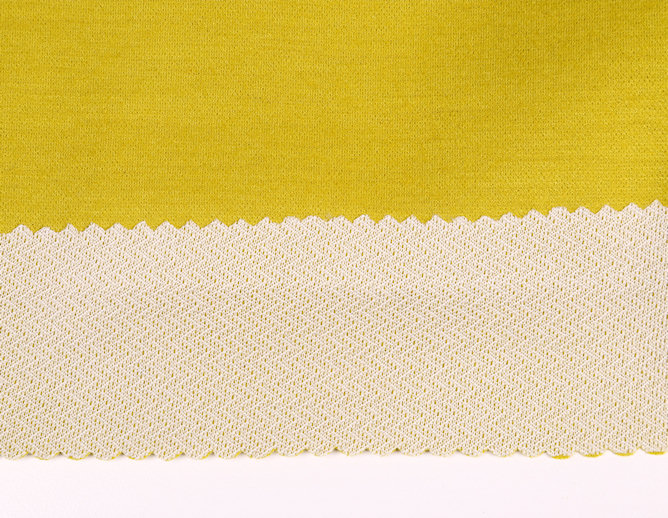 bias knit fusible
interfacing
Lapels, collars, facings, cuffs, waistbands and some hems can be interfaced. bias knit fusible interfacing is perfect for most weights of Ponte fabric. It will stabilize these areas but still have some stretch. Cut the interfacing with the stable grain (least amount of stretch) running lengthwise. For any garment pieces that are only partially interfaced, pink the edge of the interfacing that sits into the garment. The pinked edge is softer and will not leave a defined ridge.
Needles and Thread
As Ponte fabric is a knit construction, a Ballpoint needle is the best choice. For most weights of Ponte fabric a size 70 needle is suitable. For topstitching try using a twin needle size 80/3.0. (The first number refers to needle size, the second to the spacing between the needles.)
100% polyester all purpose sewing thread is suitable for machine construction. For serger or cover stitch techniques try using serger thread in the needles and wooly nylon in the loopers.
Machine Set Up
Ponte fabric can be sewn on a sewing machine using an all purpose foot. When working with multiple layers a walking foot is useful in helping the layers to feed evenly, particularly when sewing across the stretch of the fabric. To insert a zipper, an invisible zipper or regular zipper foot can be used, depending on the style of zipper. An edge stitching or edge joining foot is useful for edge stitching or topstitching, and a clear foot, if you have one, enables you to see the stitching area better.
A serger can be used to sew Ponte fabric as well. Use a 4-thread serging stitch. The extra row of stitching is security in case a stitch breaks. A serger creates a seam with built in stretch, making it perfect for seaming up pants.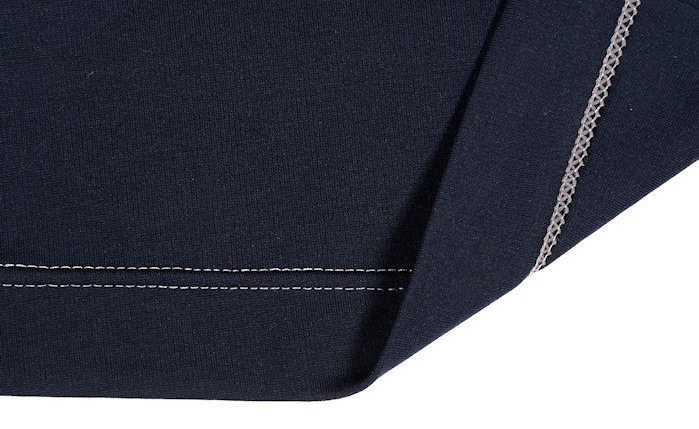 A cover stitch machine, which has two rows of topstitching on the right side of the garment and what appears to be serging on the wrong side, can be used to finish hems and waistbands.
Pressing
Use a medium/wool iron temperature for pressing. Steam is fine, but be sure to use a press cloth when pressing on the right side of the fabric.
Copyright (c) 2018 by EmmaOneSock