Elastic Waistbands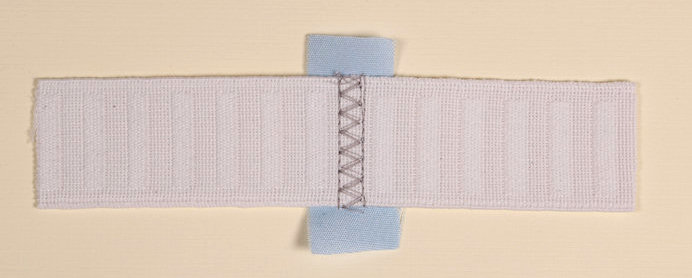 sewing elastic ends together -
cotton can be trimmed once sewn
Elastic waists are great for Ponte garments. Cut a length of non roll elastic to fit your waist. To reduce the bulk where the ends of elastic join, butt the two ends together and stitch to a piece of scrap muslin.
Divide the elastic into quarters and mark with pins. Divide the garment waist into quarters and mark with pins. Pin the elastic to the wrong side of the garment with the edge of the elastic aligned with the raw edge of the fabric. Machine baste the elastic to the garment using a stitch length of 5mm and stretching the elastic as you stitch. There are a few different ways that the waist can now be finished. Here are two options: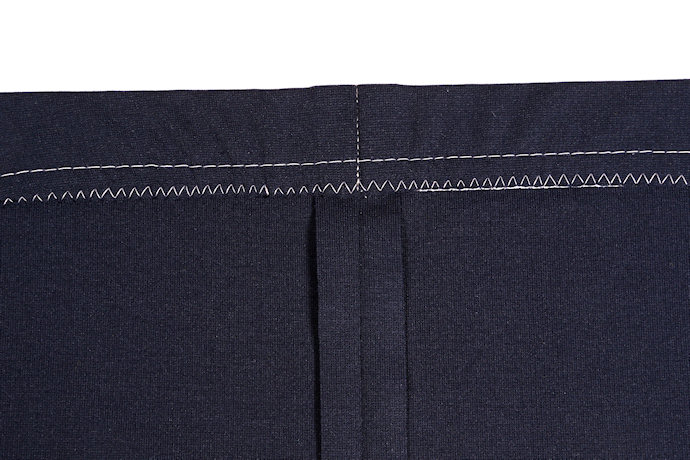 elastic waist which has been basted,
zig zag finished, stitched in well
of seam to anchor
Serge the edge of the elastic and fabric together making sure that the cutting blade is not engaged. Alternatively, you can finish this edge on the sewing machine using a wide 4mm zig zag. For either technique stretch the elastic as you stitch. Once the edge is finished, fold the elastic down and press lightly. To hold the elastic in place, stitch in the well of the vertical seams. Although the inside edge of the elastic is open, it is held in place by the stitching at each vertical seam. This gives a clean finish to the right side of the garment, a finish which is often seen in ready to wear garments.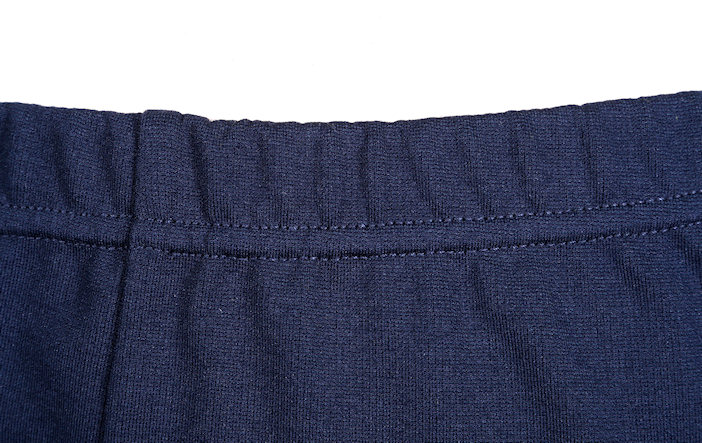 close up of pant with elastic waist
To coverstitch the hem, fold the elastic down after attaching to waistband edge and pin to hold. Coverstitch the edge of the elastic stretching it as you stitch. Use a long stitch length of 4mm as once the elastic relaxes the stitch will tighten and appear shorter.
Copyright (c) 2018 by EmmaOneSock