Color blocking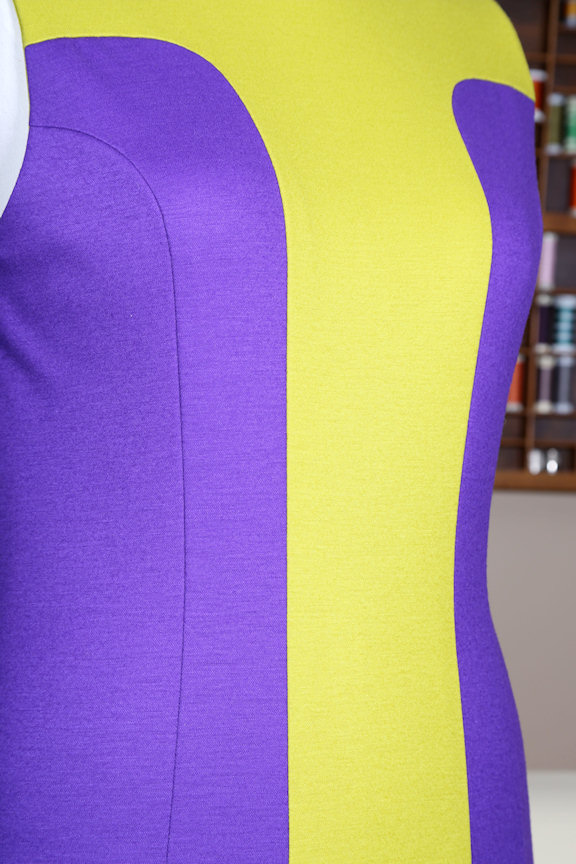 Color blocking has been popular in ready to wear over the past few years. Since Ponte is available in many solid colors, it is a great fabric to play with color blocking. Try to choose two similar weights of fabric with the same fiber content for best results. If your fabrics are high contrast in color test first for bleeding and launder accordingly.
If your garment will have a darker color, place it in areas you want to disappear or look smaller. I placed the darker purple fabric on the waist panel of the dress. Visually this will make the waist appear smaller.

detail of black/blue pants
Look for patterns with lots of seams and pieces, which can be interchanged between different colored fabrics. By adding a small piece of black as a panel to my Ponte pants, it created interest and gave them an upscale ready to wear appeal.
When color blocked seams have to match perfectly, I put a pin in the seam allowance at exactly 5/8". Place the pin in the well of the seam where the two colors meet. Do not remove the pin until you are one stitch away. This will prevent the pressure of the presser foot from pushing one layer more than the other.
Copyright (c) 2018 by EmmaOneSock