Choosing Your Leather
At emmaonesock.com it is easy to choose skins as Linda has done all of the leg-work for you! Still, it can be a bit overwhelming to figure out which skin is best for your project, and how much you will need. So let's go over some of the characteristics of the various leathers that are available.
LAMB
Lambskin
Generally, thinner skins are easier to work with when sewing on a domestic machine. Lamb is one of the softest, thinnest skins, and has a bit of inherent elasticity. Supple and luxurious, lamb is suitable for many leather projects, and is often one of the cleanest skins with very few marks or blemishes. Available in a wide range of colors, lamb is perfect for garments, soft handbags and belts. But because it is so soft and relatively thin, it tends to mark easily. If you are particularly hard on your clothing or accessories, cowhide might be a better choice for you.
COW and CALF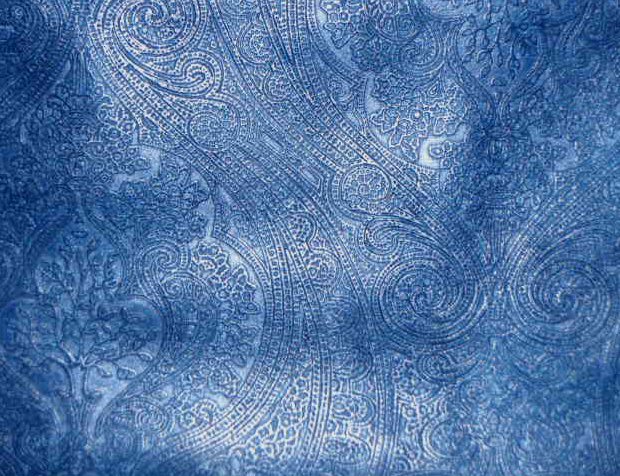 Cowhide
I often recommend cowhide for men's garments as it is a more rugged choice. Cowhide is heavier than lamb and will wear well, but it is not as soft or malleable. Calfskin is thinner than cowhide and is more malleable. The skins are generally very large, allowing you to cut all pattern pieces out of one large cowhide or a few calfskins. Cow and calf are suitable for heavier jackets, structured handbags and accessories. Because it is thicker than lamb, a cowhide garment will be heavier to wear: think motorcycle jacket as compared with a soft lambskin jacket.
SUEDED PIGSKIN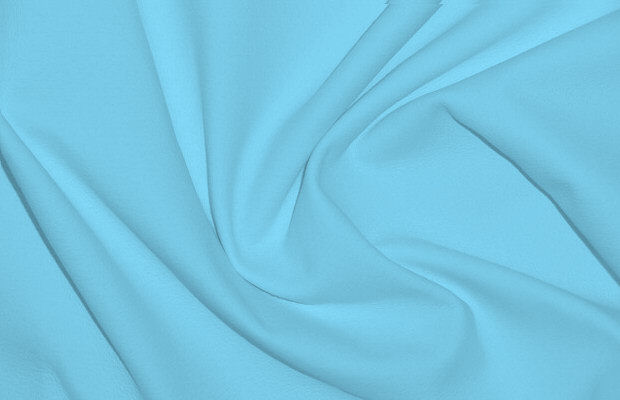 Sueded Pigskin
Pigskin is easily identifiable by the small dots that are found on the skin after processing. Pigskin is often finished with a sueded texture. It is not stretchy like lamb but is relatively thin, and can be a more economical choice for garments, handbags, handbag linings and accessories. The skins are generally larger than lamb but smaller than cow.
GOAT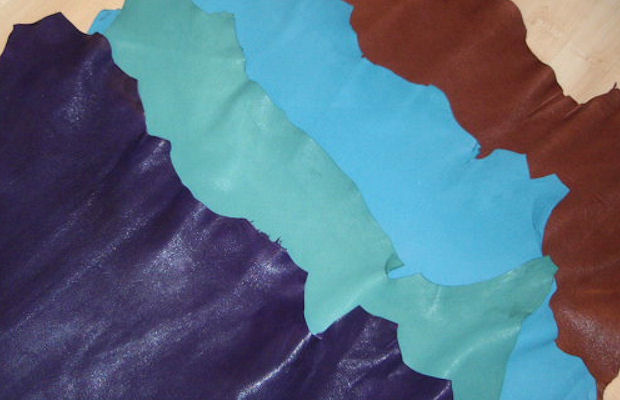 Goatskin
Goatskins tend to be smaller with very little stretch. A bit thicker than lamb, goatskin is a perfect choice for more structured handbags and accessories. It's a bit harder to find than the other skins, but emmaonesock.com offers goatskin in a great range of colors.
EMBOSSED, PERFORATED and METALLIC SKINS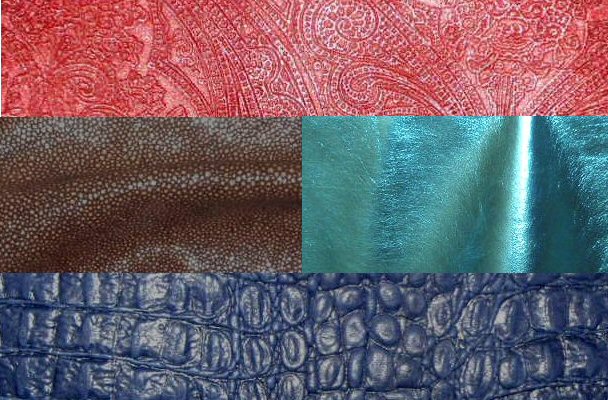 Embossed and metallic leathers
Often leathers are embossed with decorative patterns or made to imitate the skins of more exotic animals such as crocodile, alligator, stingray, etc. There are also perforated leathers with with a range of designs from dots to lacework cutouts. Also available are skins with a metallic finish, in a wide range of colors. All of these leather treatments provide a wealth of design possibilities and are fun to explore.
Copyright (c) 2018 by EmmaOneSock