Sewing Machine Set Up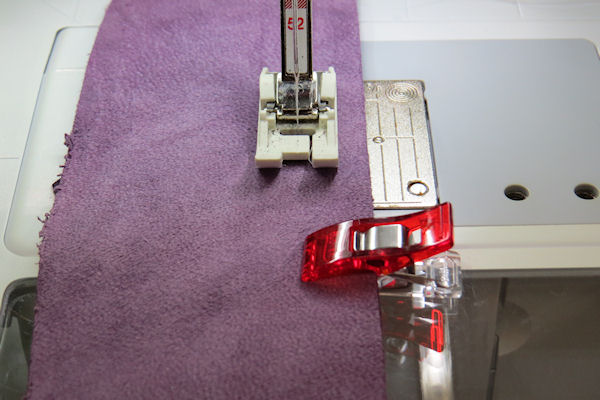 Wonder clips are used to hold a seam together. Stitched using a Teflon foot.
The most important accessory and the key to success in working with leather is a Teflon foot. Without a Teflon foot, stitches are small and irregular as the metal of a regular foot sticks to the leather. Even if your machine has a built-in walking foot, you will be unsuccessful without a Teflon foot. Too many stitches, too close together weaken the skin allowing it to tear, so lengthen the stitch length on the machine to give you 6-8 stitches per inch. Try a sample with a stitch length of 3 - 3.5mm and count the stitches to see how many stitches per inch you get. The stitch length will vary depending on how thick the skin is and how many layers you are sewing through, so experimentation on scrap pieces is essential to get it just right.
Copyright (c) 2018 by EmmaOneSock