Patterns
There is a wide range of shirt styles, so when choosing a pattern there are several variables to consider. One of the main considerations when choosing a shirt pattern is the collar and stand. A pattern which includes both a collar and stand will fit the neck well and create a crisp collar that will stand up on its own. A collar pattern with a built in stand is cut as one pattern piece and has a more casual, less fitted look. A one-piece collar will never fit as nicely or stand up as well as one with separate collar and stand pattern pieces. Other design features that can vary from pattern to pattern include front and/or back yokes, sleeve plackets and cuffs, variations in seaming and darts, and front plackets or button bands.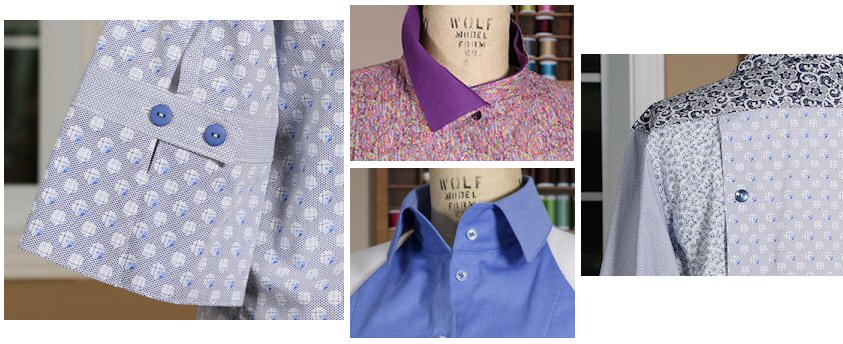 PLEASE NOTE: A slight pattern alteration is required if you plan to flat-fell your armsyce seams. If the sleeve cap of your pattern is fairly flat, it can be flat-felled, but flat-felled armsyce seams are wider than body seams. To accommodate the wider armsyce seams, increase the seam allowance on the cap of the sleeve to 3/4" before you cut out your sleeve pattern. If your sleeve cap has a sharper curve you will use a different seaming technique (covered later) and do not need to make this pattern alteration.
Fabric

Finely woven cotton is the traditional fabric for a shirt but other fabrics can be used successfully as well, including silk, linen, rayon, fiber blends, wovens with stretch, and even knits. Fine cotton fabric should have a tightly woven, high thread count and a smooth hand. Cottons with a small amount of stretch are suitable and comfortable to wear but can be more challenging to sew. The pressure of the presser foot can stretch the fabric when topstitching. Stretch usually occurs on the cross grain. Interfacing the collar and stand helps to control the stretch. If the pressure of the presser foot is stretching the fabric, stopping every few inches with the needle down, lifting the presser foot and smoothing the fabric out before continuing can help.
Preshrink cotton shirting fabric by washing in hot water and drying in the dryer. Press the fabric afterwards to remove any wrinkles. If your fabric has lycra, opt for a cool water wash and a low dryer setting.
Interfacing: The inside story
Sew-in woven interfacing is perfect for most shirt making projects, and is available in several different weights, such as Siri soft and Siri medium. Given that most shirts are made from cotton which can shrink or pull in when washed, sew-in interfacings are more compatible with shirting fabrics than fusibles, which can't be pre-shrunk. Sew-in woven interfacings should be machine-washed, dried and pressed before using.
Many sewists are under the impression that sew-in interfacings are extra work or difficult to use, but this is not the case. Simply spray the cut interfacing with a bit of 505 temporary spray adhesive and then position it onto the fabric. The 505 will hold it in place until it is caught in the seam allowances. After seams are sewn, trim the interfacing close to the stitching using a pair of duck-billed appliqué scissors.
Thread
Regular all purpose polyester thread is too heavy for tiny stitches and will sit on top of the fabric rather than melding with it. A fine long staple 100% cotton 2 ply thread in size 50/2 or 60/2 is most suitable for sewing tiny stitches. Recommended threads include the following: YLI 100% cotton Soft Touch 60/2
Mettler 100% cotton fine embroidery 60/2
Aurafil 100% cotton Mako 50/2
Tyre 100% silk 100 weight thread

Although the recommended cotton threads are all long staple fiber threads they may still appear a bit fuzzy if used on a contrasting color fabric. If this is the case try using the silk thread, which has a very smooth mono-filament. It will provide very smooth stitches.
Machine Setup: Feet and Needles
Shirtmaking involves fine, precision sewing. To obtain best results use a straight stitch throat plate and a straight stitch presser foot. The combination of a foot with a small needle opening and a throat plate with a single hole will result in perfectly straight stitches.
An edge-stitching foot can be used for top-stitching and edge-stitching.
For fine tightly woven cottons and silks a size 60 Microtex needle, which has a very sharp tip, is suitable. For linens try a size 70 Universal needle.
Copyright (c) 2018 by EmmaOneSock